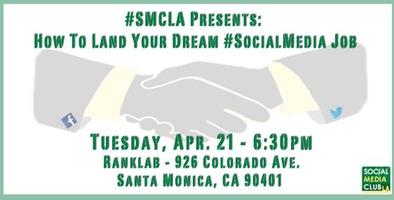 Do you dream of a job where you get to be creative, be witty and quick on your feet, and engage with people on a daily basis? Do you love keeping your finger on the pulse of the hottest online marketing trends, and what the world's top brands are doing in the digital space? Does analyzing date excite you? If you answered yes, then a job in social media may be for you!
Social media is a fun, exciting field that is growing every day, yet it takes far more than having an active Facebook profile to get your foot in the door. Social Media Club Los Angeles (SMCLA) is here to help with its April event, "How to Land Your Dream #SocialMedia Job." With the digital marketing job realm more competitive than ever before, we'll show you how to gain the experience you need, and specific techniques for getting ahead, connecting with hiring managers, and positioning yourself against the competition. Listen as our panel dives into the world of social media job postings, and what it takes to land #TheJob. The event will be moderated by Cynthia Johnson, director of marketing and social media at RankLab. Panelists include:
David Cooley, Director of Alumni Career Services at UCLA Anderson School of Management (@career_cooley)
Chris Baccus, Executive Director of Digital at Golin Harris (@cbaccus)
Betsy Berkhemer-Credaire, President of Berkhemer Clayton, Inc., executive search firm (@BetsyBerkhemer)
Sponsored by InMotion, the event takes place Tuesday, April 21 at RankLab, located at 926 Colorado Ave., Santa Monica, CA 90401. Doors open at 6:30 p.m., with the panel starting at 7:00 p.m. Networking will immediately follow until 9:30 p.m. Grab your tickets now by registering at http://bit.ly/SMCLAJobs.